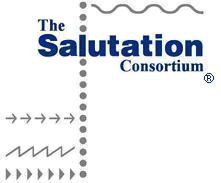 Salutation Consortium
---
Salutation Press Releases
---
IBM INTRODUCES SOFTWARE TOOLKIT SUPPORTING ENHANCED SALUTATION CONSORTIUM SPECIFICATION
Helps Link Fax And Copiers To Computer Networks
DALLAS, June xx, 1996-A developers toolkit for the Salutation Consortium's newly enhanced network interface specification is now available from IBM. The IBM Salutation Manager has been enhanced to support Version 2 of the Salutation Architecture, a network interface specification that sharply increases the interoperability of intelligent peripherals, office machines, applications, and services.
The IBM Salutation Manager software toolkit helps developers build devices, services, and applications interoperate in ways not otherwise possible. A networked user, for example, can broadcast a query in order to locate a particular network resource such as a color copier or a printer with a legal-size paper tray. The Salutation Architecture is independent of network transport, hardware platform, and operating system software.
"The IBM toolkit hides the complexity of Salutation protocols from the developer and makes it easy to add market-leading features to office machines and other networked equipment," said James H. Barnett, Jr., managing director of the Consortium.
"IBM is working with several Consortium members on integrating the Salutation Manager into existing and future products," said Richard Osterman, manager of the IBM Salutation Project Office. As part of its technology development and testing process, the Consortium has demonstrated a prototype network with products that implemented the IBM Salutation Manager. The demonstrations, staged at customer briefings and technical seminars in Japan, featured Salutation-enabled products developed by Canon, Fujitsu, IBM Japan, Ricoh, Sharp, and Toshiba. Workstations, copiers, fax machines, and handheld computers worked together to accomplish customer tasks in ways not currently possible using conventional networking technologies.
"The Consortium is planning to demonstrate a network of Salutation-enabled products and prototypes at COMDEX/Fall, in November," said Barnett.
IBM Salutation Manager is now delivering implementations on Windows 3.1 and OS/2, and the company is looking to add additional platforms such as Windows 95. Source code is available to developers who want to port the Salutation Manager to other environments. Using the IBM Salutation Manager as a service broker, devices, applications, and services can discover and utilize one another's capabilities via Salutation protocols on NetBIOS, TCP/IP and XPF. Vendors can find more information about IBM's Salutation Manager on the Consortium's web site (http://www.salutation.org).
About the Consortium
The Salutation Consortium is a non-profit corporation with membership open to all interested companies, organizations and individuals. The Consortium is active in the United States, Japan, and Europe.
Member companies include manufacturers of computers, network services, information management solutions, and office equipment. They are Active Voice, APTi, Axis Communications, Brother Industries, Canon, Casio, Eastman Kodak, Fuji Xerox, Fujitsu, Hermes Enterprise Messaging, Hewlett Packard, Hitachi, Integrated Systems, IBM, Kobe Steel, Konica, Lexmark, Matsushita, Microware Systems, Minolta, Mita, Mitsubishi, Murata (Muratec), NISCA, Novell, Oki Data, Ricoh, Rios Systems, Rockwell, Sanyo, Seiko Epson, Sharp, Toshiba, Wind River, and Xerox.
The Salutation Consortium web site is http://www.salutation.org.
(30)
---
Salutation Press Releases
---