<![if !vml]>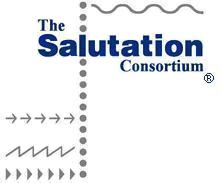 <![endif]>
---
Salutation Press Releases
---
SALUTATION CONSORTIUM ADDS NEW MEMBERS
New technology developments from member, including Salutation-Lite for PalmOS and cross-platform information exchange to be offered free of charge
Los Angeles, CA - Bluetooth Developers Conference, December 7, 1999---The Salutation Consortium, a non-profit corporation focused on providing technologies that improve information exchange among multiple and different devices, today announced the addition of six new members.
Two of the new members, MicroBurst and TRG Products, will develop offerings for the Consortium on PalmOS and Windows CE. Microburst will have products available in early 2000 and TRG will have availability in mid-2000. MicroBurst and TRG Products have joined the consortium as general members.
MicroBurst (Rockville, MD - www.mburst.com) designs, develops, and tests applications for handheld/PDA devices such as those running Windows CE, 3Com Palm Pilot; smart phones and wireless interfaces, focused on Windows, Macintosh, and OS/2 operating systems. The company will provide code, developed on the Salutation-Lite code base, to exchange business cards between Windows CE and PalmOS devices. This will be the first exchange of its kind between the two platforms. "MicroBurst is excited to be working with such visionaries in the area of service discovery," said Mark Frederiksen, president of MicroBurst. "We believe our cross-platform exchange between PalmOS and Windows CE devices will jumpstart advanced technological development based on the Salutation architecture. The protocol's independence is a coup for the mobile community."
TRG Products (Des Moines, IA - www.trgpro.com) is a Palm Computing licensee and has developed the TRGpro based on the Palm Computing platform. They will port Salutation Lite to the PalmOS and provide it as an option in their library of solutions for the its TRGpro PalmOS handheld device. "We selected the Salutation Consortium for service discovery because it has a proven track record for nearly three years, " said Doug Lewis, director of product management, TRG Products. "A successful mobile marketplace requires a solid means to link disparate devices. The Salutation architecture provides that capability free of charge for developers. The strength of Salutation in the Japanese market was a primary consideration also.
Salutation has also exchanged membership under its honorary classification with another organization, the Infrared Data Association (IrDA). IrDA (Walnut Creek, Calif. - www.irda.org) is an association of companies from around the globe focused on providing infrared (IR) standards to ensure the quality and interoperability of infrared technology.
The Salutation Consortium is also pleased to announce new academic members, Dr. Tamal Bose, University of Colorado, Dr. Stephen Reiss, Brown University and Dr. Tomohiro Takagi, Meiji University in Tokyo.
"The strength of the Salutation architecture lies in four key areas: it's open, it works, it's shipping and it's free," said Robert Pascoe, president of the Salutation Consortium. "Our continued growth in membership indicates the industry's desire for a common service discovery solution. The Consortium would like to welcome our new members and offer an invitation to others to join so that we may continue to provide the most advanced service discovery protocol in the marketplace."
Salutation Service Discovery
Service discovery protocols enable network devices, applications, and services to seek out and find other complementary network devices, applications, and services needed to properly complete specified tasks. Salutation technology provides instantaneous and seamless connection among devices independent of operating system, hardware platform or communications protocol. This provides for a single-service discovery implementation across devices, applications and services.
Salutation Lite is royalty free and offered on an open source model to encourage use and further development of software and hardware developers of the next-generation of portable, handheld and palm-sized PCs. The Salutation Lite architecture offers a Find and Bind solution. It helps users to locate and detect Salutation-enabled devices, exchange functional capabilities and locate required services. Mobile users can then perform the services they require such as printing, faxing or sending audio messages directly from their handheld device via their infrared port, for example.
Consortium members and non-members have produced a range of implementations Ricoh, Canon and Fuji-Xerox are shipping multifunction products. Murata and Mita are shipping fax devices. IBM has enabled Notes Domino through its NuOffice offering. XtraWorX has developed a Windows enabler, allowing locally attached devices to appear Salutation-enabled to a network. Others have developed document management offerings based on the Salutation Architecture. There are also developer toolkits available from IBM and others.
The Salutation Consortium is a non-profit corporation that promotes and distributes, royalty-free, the Salutation Architecture, a service discovery and session management protocol developed by leading information technology companies. It is an open standard independent of operating system, communications protocol or hardware platform.
Member companies include Axis Communications, Canon, Fuji Xerox, Ltd., Fujitsu Limited, Granite Systems, Hewlett Packard, Hitachi, IBM, IrDA, Konica, Matsushita Electric Industrial Co., MicroBurst, Inc., Mita Industrial Co., Mitsubishi Electric Corp., Murata Machinery, Ltd., Oki Data Corp., Ricoh Company, Seiko Epson Corp., Sharp Corporation, TRG Products, Inc., Toshiba TEC, Xerox Corp.
Academic members include, Tamal Bose, University of Colorado; Stephen Reiss, Brown University; Tomohiro Takagi, Meiji University.
---
Salutation Press Releases
---






<![if !supportLineBreakNewLine]>
<![endif]>