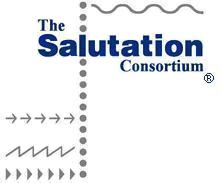 ---
Salutation Press Releases
---
WHOOPS! SALUTATION IS NOT "AN IBM STANDARD"
SAN JOSE, Calif., Apr. 9, 1998--Fuji Xerox Co., IBM Japan Ltd., and the Salutation Consortium regret that a translation difficulty in a press release originally created in the Japanese language said that Fuji Xerox was supporting the "IBM-developed networking standard as the industry's de facto format." That standard is actually the Salutation Architecture, developed by the Salutation Consortium. The Salutation Consortium is a non-profit corporation with 35 member organizations, including Fuji Xerox and IBM Japan. The Salutation Architecture is an open architecture, available without cost to hardware and software developers.
The Salutation Architecture is open middleware technology for locating and controlling printers, copiers, and other computer equipment across the Internet or a company intranet. It lets you query the network to discover which attached devices can receive your images, files, and messages. For example, a laptop computer can locate a color printer, or a digital camera can send an image directly to a fax machine. Salutation reduces LAN administration by autoregistering new devices on the network and by supporting ad hoc discovery, with no need for maintaining enterprise-wide directories.
Fuji Xerox has adopted the Salutation Architecture for networking office automation equipment. Fuji Xerox, along with Mita, Muratec, Ricoh Co. and Canon Inc., are using Salutation to control copiers, multifunction devices, and faxes over a network. IBM NuOffice, a software product with Salutation extensions to Lotus Notes, provides an office system that supports the new Salutation-enabled devices.
Salutation Consortium member companies include Adobe Systems, APTi, Axis Communications, Brother, Canon, Casio, Cisco, Eastman Kodak, Fuji Xerox, Fujitsu, Hewlett Packard, Hitachi, Integrated Systems, IBM, Kobe Steel, Komatsu, Konica, Lexmark, Matsushita, Microware Systems, Minolta, Mita, Mitsubishi, Murata (Muratec), Novell, Okamura, Oki Data, Ricoh, Rios Systems, Sanyo, Seiko Epson, Sharp, Sun Microsystems, Toshiba, and Xerox.
The Consortium's web site is http://www.salutation.org.


---
Salutation Press Releases
Additional Media Contacts
Fuji Xerox
Ichirou Hazama, [email protected]


IBM Japan
Steve Berry 714/438-5811 or [email protected]


---
---
Back to home page