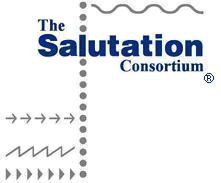 Salutation Consortium



---
Salutation Press Releases
---
WHETSTONE TECHNOLOGIES JOINS SALUTATION CONSORTIUM TO DEVELOP IMAGE PROCESSING NETWORK PROTOCOLS
SAN JOSE, Calif., June 10, 1997- WhetStone Technologies has joined the Salutation Consortium and will participate in developing a vendor-neutral protocol for handling images on a network, Consortium managing director Robert F. Pecora announced today.
WhetStone is the developer of ViewWise, an image-enabling application that lets software developers add image processing to desktop applications. ViewWise technology incorporated into Novell's GroupWise Imaging product, for example, allows users to view, store, edit, and route scanned image files across corporate networks and intranets via the Universal Mail Box.
The Salutation Consortium has published an open specification that enables an application to locate a particular resource on a network through a broadcast query. The specification is independent of network transport, hardware platform, and operating system software and supports standard Internet and other message formats.
Randall Waters, WhetStone president, said," We see Salutation as a key to resource management for successful network scanning. Today's ViewWise product processes images from a locally attached scanner with support for networked files and printers. Our next step is to enable ViewWise to process images directly from networked scanners, multifunction peripherals and fax machines. ViewWise can use the Salutation Architecture to find, query, and activate image- scanning devices across the network."
Pecora said, "Growing adoption of the Salutation Architecture by hardware manufacturers is bringing the Consortium to the attention of network software and services developers. WhetStone is a leader in using the Salutation protocol to control software processes and network services. WhetStone brings expertise in network image processing to the Consortium."
The Salutation Architecture for detecting and activating network devices was incorporated into recent products announced by Canon, Fuji-Xerox, IBM, Lotus, Mita, Murata and Ricoh in Japan.
WhetStone Technologies
WhetStone Technologies, an affiliate of UICI (NASDAQ:UICI), offers best-of-class image-enabling technologies for collaborative and enterprise-wide information sharing. WhetStone's unique understanding of how organizations interact in real-world situations provides for complete integrated and document imaging solutions for mainstream businesses and other software applications. WhetStone Technologies, located in Park City, Utah, is also the contracted developer of Novell's GroupWise 5 Imaging and GroupWise 5 Imaging Solutions Pack. Information about WhetStone and its products can be found on the world wide web at www.viewwise.com.
The Salutation Consortium
The Salutation Consortium is a non-profit corporation with member organizations in the United States, Europe, and Japan. Member companies include APTi, Axis Communications, Brother, Canon, Casio, Cisco, Eastman Kodak, Fuji Xerox, Fujitsu, Hewlett Packard, Hitachi, Integrated Systems, IBM, Iwatsu, Justsystem, Kobe Steel, Konica, Lexmark, Matsushita, Microware Systems, Minolta, Mita, Mitsubishi, Murata (Muratec), Novell, Oki Data, Ricoh, Rios Systems, Sanyo, Seiko Epson, Sharp, Sun Microsystems, Toshiba, and Xerox. Information about the Salutation Architecture is available on the Consortium's web site http://www.salutation.org.
---
Salutation Press Releases
---
for WhetStone Technologies:
Brodeur Porter Novelli
Blake Stowell/Mark Molzen (801) 765-1500
bstowell/[email protected]