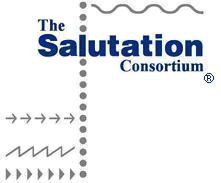 Salutation Consortium



---
Salutation Press Releases
---
SALUTATION CONSORTIUM ENCOURAGES DEVELOPERS TO APPLY FOR ITS WORKSHOP ON TOMORROW'S FAX APPLICATIONS
SAN JOSE, Calif., February 12, 1998-- The Salutation Consortium will sponsor a workshop titled 'The Impact of Salutation on Tomorrow's Fax Applications' for application developers and others interested in office software applications for Internet fax, networked fax and peripheral devices, and information appliances. The workshop will include demonstrations and an Ask The Experts panel.
The workshop will be held April 2-3 in Atlanta. Sessions are planned daily from 9:00 a.m. to 4:30 p.m. Applicants selected to attend will be provided lodging and meals and there is no cost for the workshop. Individuals or companies wishing to attend the meeting can register on the Salutation web site (http://www.salutation.org/faxboform.htm) or contact the Consortium's managing director Robert F. Pecora ([email protected] or 770/642-8565) for more information. Workshop space is limited, so prospective attendees should apply early.
The workshop focuses on business applications for fax, taking a comprehensive look at how the Salutation Architecture is changing traditional models for distributed printing, image capture and transmission, and Internet fax. Keynote speaker will be fax industry expert Peter Davidson, editor of FAXwire and analyst with International Data Corp. Other sessions will include an overview of Salutation technology, specifics of Salutation fax protocols, development aids, and product certification and testing. Roundtable sessions will let developers discuss scenarios for fax applications that make use of the Salutation Architecture.
Salutation Consortium
The Salutation Architecture is an open protocol for locating and controlling computers, consumer devices, and office equipment across the Internet or a company intranet. It allows an application to send a network query to locate a device, application or service, allowing maximum possible use of the characteristics discovered.
The Salutation Consortium is a non-profit corporation with member organizations in the United States, Europe, and Japan. Member companies include ADOBE SYSTEMS, APTi, Axis Communications, Brother, Canon, Casio, Cisco, Eastman Kodak, Fuji Xerox, Fujitsu, Hewlett Packard, Hitachi, Integrated Systems, IBM, Kobe Steel, Komatsu, Konica, Lexmark, Matsushita, Microware Systems, Minolta, Mita, Mitsubishi, Murata (Muratec), Novell, Okamura, Oki Data, Ricoh, Rios Systems, Sanyo, Seiko Epson, Sharp, Sun Microsystems, Toshiba, WhetStone, and Xerox.
Information about the Salutation Architecture is available on the Consortium's web site (http://www.salutation.org).
---
Salutation Press Releases
---
Return to Press release index